There was a mix of good and bad, for loyalty in 2019.
Much of the bad has derived from a lack of belief or understanding from CEOs, who constrain budgets, and prop up short-term earnings with value that ought to flow to customers.
The widespread devaluation of loyalty currencies during the past few years brings this into sharp focus.
Despite such obstacles, however, many determined loyalty professionals have carved out real gains. This has mostly been via low-investment, tactical approaches that increase ROI, and by educating the C-suite regarding long-term strategic value.
That same growth-hacking approach – a trademark of Silicon Valley firms – has led to some important advances for the entire industry to observe. But there remain some fundamental things that loyalty programs need to achieve to weather the looming storm that open banking, mobile payments, aggregation models, and other marketplace dynamics will bring.
In this 'perfect storm' of change, the sheltered existence, that many leading loyalty programs have enjoyed for three decades, will come to an end.
Loyalty programs once enabled relatively personalized marketing.
From a standing start of zero customer data some 20 years ago, brands became able to incentivize desired behaviors in highly-predictable customer segments.
They did this by embarking on 'no-brainer' partnerships: where the customer journey is so linear (think airline + car rental) or the customer frequency so high (think grocery store + fast-casual dining) that a brand partnership creates obvious value.
Value, that is, to a minority of highly-frequent, high-spending customers.
Today, practically all these higher-spending customers are already enrolled in 'no-brainer' loyalty coalitions. Comprising perhaps 20% of your customer base, they form one of the 'big, molasses segments'[i], now widely considered totally insufficient for modern marketing.
To the majority of less-frequent customers, these partnerships are not only impersonal, but many are downright irrelevant. If you don't fly often, you probably also don't stay in a lot of hotels.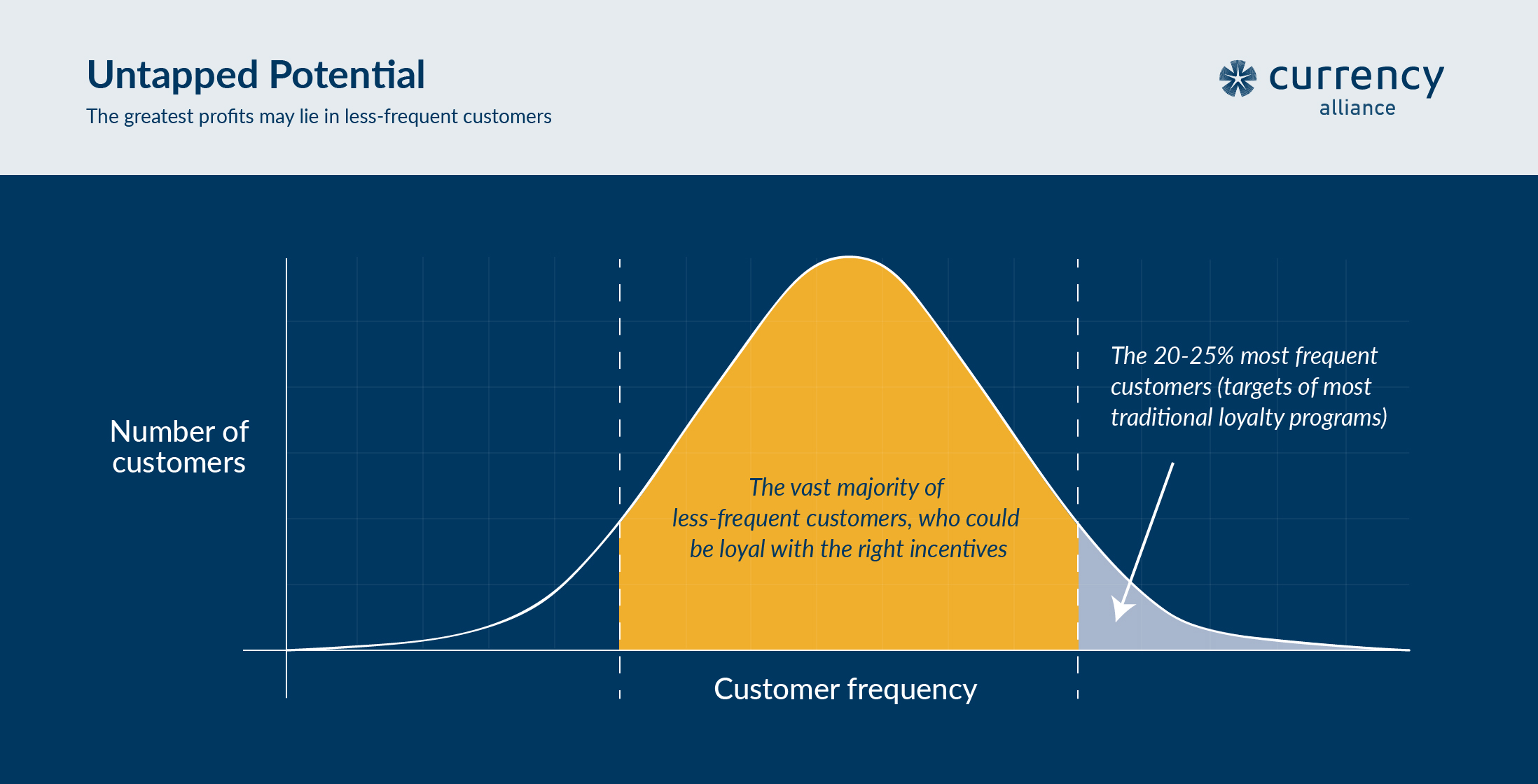 It is with these less-frequent customers that the biggest profits lie…